IT is under pressure with business demanding ever-shorter release cycles for new applications. Traditional 'Operations' is seen as a barrier to innovation with bureaucratic controls and delays in provisioning production systems.
DevOps is a growing movement to integrate the conflicting cultures and practices of Development and Operations, with the express goal of reducing the deployment cycle.
The Phoenix Project is a DevOps simulation designed to help Development and Operations teams to playfully collaborate, identify bottlenecks and solve real world problems in a simulated environment.
Team Building Exercise
This one-day workshop is an ideal team-building exercise to shatter misconceptions and encourage greater collaboration between Development and Operations teams. It delivers a number of familiar, real-world challenges and allows the team to experiment with different approaches to solving these problems.
Participants will learn about the philosophies underpinning DevOps, and discover how collaboration and knowledge sharing leads to high performance results.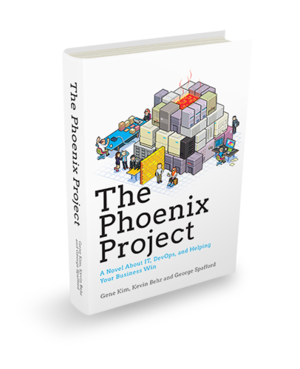 Based on The Phoenix Project
This simulation is based on the award-winning and best-selling business novel by Gene Kim, Kevin Behr and George Spafford.
"Parts Unlimited is in trouble. Newspaper reports reveal the poor financial performance of the organization. The company is pinning its hopes on a last gasp Phoenix Project which represents an IT-enabled business transformation. The VP of IT Operations is asked to take the lead of the IT department and ensure that the Phoenix Project will be a success.
But the VP of IT Operations is facing a huge backlogs of other issues, features and projects."
How the simulation works
Your team members will be assigned different roles within a fictional organisation:
Retail Operations

Human Resources

Finance

Head of IT Operations

Engineering

Development
Your teams challenge will be to apply DevOps principles while playing in this Business Simulation. While you may think you know DevOps theory, you'll be tested under pressure.
The game consists of three rounds where you will be challenged to deploy changes whilst simultaneously focusing on outages and delivering "The Phoenix Project".
To make it even more challenging, the business demanding new features and external developments outside your control also throw a spanner in the works.
Learning Objectives
The simulation can be partially customised towards your own specific needs and learning objectives. However we will still focus on the following objectives:
How to apply DevOps principles in a real life situation
How to find the right balance between delivering on your SLA requirements and your IT projects according to plan
How DevOps can bring value to your business
How to increase the efficiency and effectiveness of your IT department
How to improve the flow of work in your teams
How to develop people's skills to act in a DevOps environment
How to show business their responsibilities in making IT Projects more successful
This simulation is challenging but also enormously fun. May be paired with the DevOps Fundamentals course.